Hi, Im Evelyn!
(but my friends can call me Ev)
If we have not yet had the pleasure of meeting, I hope that this page can catch you up on a little about who I am, what drives my work, and what I have been up to lately.
Just so you have the basics down, I am a born and raised proud NYer (Staten Island to be exact – Park Hill to be even more exact.) I am also a SUPER proud alumna of Howard University's School of Business – the school that helped mold me into a strong woman of truth and service. Howard also was my ticket to enter corporate America where I held several roles throughout retail sales/customer development and was Senior Assistant Brand Manager for a multi-million dollar foods brand specializing in project management for our brand's development, product innovation and packaging design.
NOW, I spend my time fully exploring the culinary side of the food industry as a Pastry Artist. I recently finished an intense Professional Pastry Arts program at the esteemed International Culinary Center in New York (same school Bobby Flay attended and where Jacques Torres is my program dean!)
From the scholarship program I started in the 2014-2015 school year to my pastry work, everything I do is driven a passion to help the people of my community feel loved and supported which is one of the greatest gifts one can give in the world we live in today.
Well… that is enough about Ev for now. You may find some more fun facts around this site but if you would like to stay in the know about what I am up to, be sure to sign up for my quarterly newsletter and follow me on social media!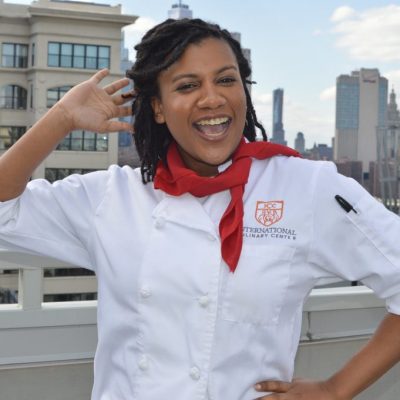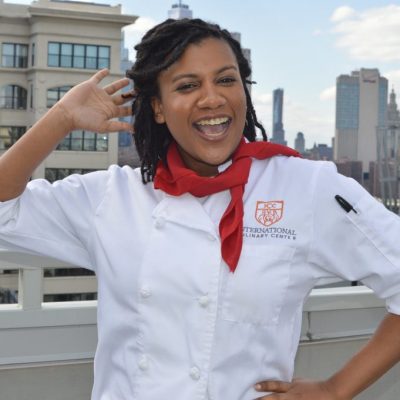 Speaking Engagements
Courageous Living PodcAst
I recently sat down with Courage Molina to discuss my major career pivot and what life has been like since going from a full-time corporate marketing job to a passion-led journey through pastry art and more about Ev!
Dwight Morrow High School x Unilever
In an ongoing partnership with the Black Excellence at Unilever (Be-U) resource group for the global powerhouse company, I have led multiple sessions with high school students of Dwight Morrow High School in Englewood, NJ to discuss the steps I took to graduate from college debt-free and key elements of a strong scholarship application.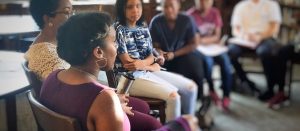 Recent Features
Professional
Check out some testimonials on our home page
CREATIVE
Look at some of her pastry work on the #EvCooks Tab
Passionate
See how Evelyn pours her heart into her scholars